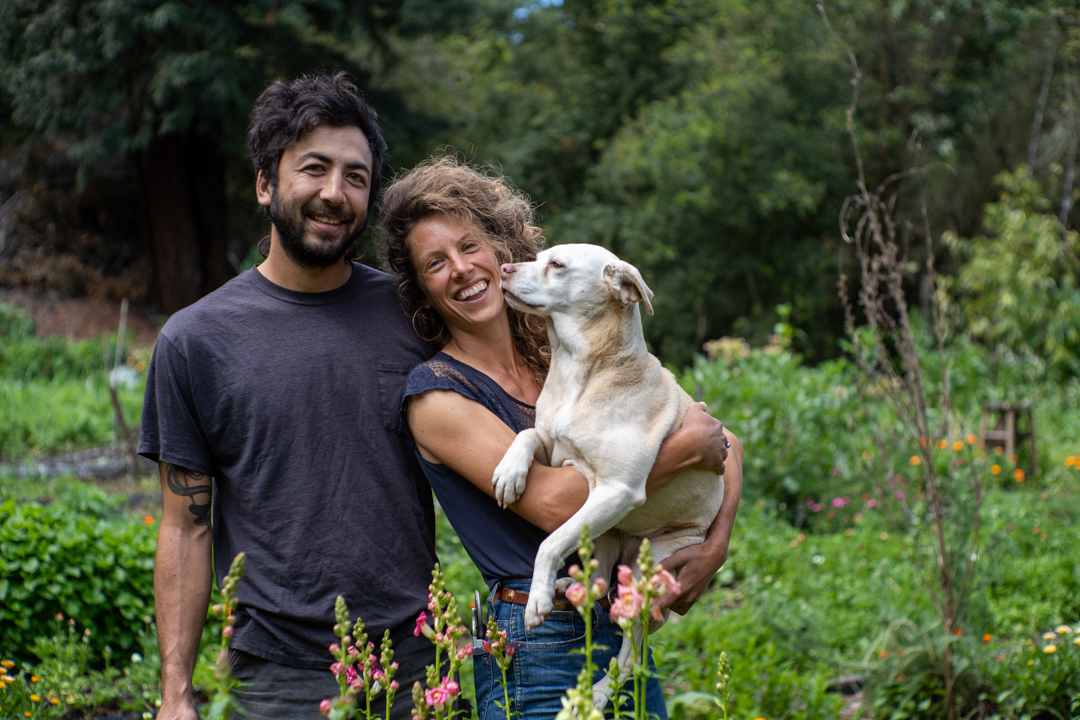 We garden on the gentle slopes of a mountain just two miles inland from the southern California coast. This is the unceded territory of the Ventureno Chumash. Our garden is nourished by the coastal fog that rolls in + out of the canyon, surrounded by high + dry ridgelines but held in the dense embrace of a healthy oak woodland. Our garden is a riot of medicine + food in the growing season, with holy basil + ashwagandha next to cut flowers + our summer tomatoes.
We use more-than-organic practices, honoring the biodiversity of the forest we call home. We work to build our soil with rich compost, minimal tilling + cover crops to reduce our water needs + honor the reality of drought in southern California.
Danny grew up in the mountains nearby + spent many years as a working artist before becoming interested in growing medicinal plants.
Alena grew up in the deciduous jungles of the Southeast + has spent the last decade as an organic farmer + native plant gardener.
We met during an apprenticeship at a medicinal herb farm + have been growing + making medicine together ever since.
We believe that growing + producing local medicine is our way to contribute to a more just + sustainable world, where healthcare is centered first within ourselves. We hope to connect folks more firmly to the magic of plants.
Our name honors the movements of the Earth's crust, which rolls in tides just like the ocean, connected to the pull of the moon.
Labels are all original tiny paintings by Danny.
(photo by Natalia Santizo)